Principal's Desk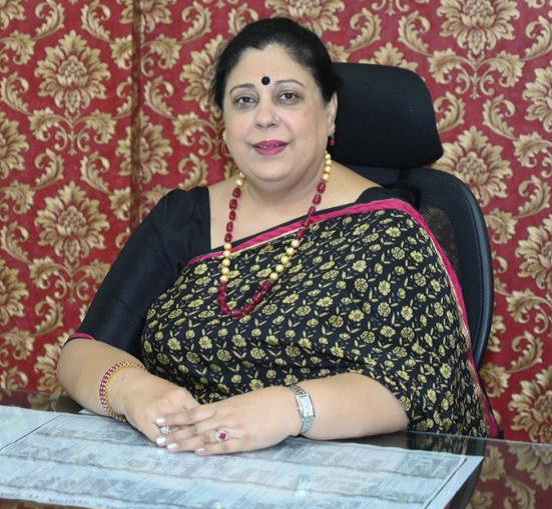 Prof (Dr.) Anita Kaushal
Principal
Ph.D, M.A. English (Panjab University Gold Medallist)
Phone : 0172-2740614
Email: principal_gcg@yahoo.com
Post Graduate Government College for Girls, Sector -11, Chandigarh,  a premier front runner educational institute of the country with NAAC accreditation of Grade A and affiliated to Panjab University was established in 1956 to impart quality education to the young women of the country.  The college is strategically situated amidst abundant greenery in sylvan surroundings and provides an ambient environment conducive to academics. PGGCG-11 is reputed throughout the country for achieving incredible milestones, not only in academics but also in sports and extra-curricular activities.  With its multi- faceted brilliance and focus on persistent efforts for an all inclusive progress of the students during its long history of nearly 60 years where achievements and quality are tradition and honesty is passion, the college has carved a niche as an academic institution par excellence.
Post Graduate Government College for Girls, Sector 11 has althrough imparted holistic and value based education to its students coming from diverse backgrounds and empowers them to live by its motto "Courage to Know" which inculcates an approach that stimulates analysis and expedites enquiry to ascertain facts.
Our team of committed and proficient educators not only encourage critical thinking but are also instrumental in building up a community on the bedrock of affable relationships between staff, students, families and between students themselves; a citadel to chisel students as inspiring  change makers.  Ours is a family of elaborative professionals resonating with excellence to guide the students to sift through the vast ocean of knowledge and focus on the most reliable, current and pertinent information. The sprawling campus of 35 acres, infrastructure, green cover and other value added amenities are a hallmark of brilliance that makes the teaching- learning experience amiable and purposeful. Societies and clubs with a strong inclination towards our mission of Institutional Social Responsibility carry out community- centric initiatives which act as catalysts to metamorphose our students into being open – minded and empowered young women endowed with leadership qualities and a quest for nation- building.
PGGCG, Sector 11 offers a wide ranging array of academic options  at the under-graduate level to impart meaningful learning; kindle inquest at Post Graduate and Doctorate level for a pragmatic attitude, complemented by  skill – development  and job-oriented courses to nurture multiple capabilities. Academics are suitably supplemented with extra- curricular realms to sharpen the flairs comprehensively in art, music, dance, theatre and sports. The creativity, imagination, communicational talent; and athletic potential of our students  has brought laurels at  international, national, state and university level reflecting our vision of holistic development.
The initiatives and tireless dedicated efforts to help  build the architecture of an Inclusive India  through sustainable development, environment conservation, community-centricity and cleanliness, has enabled PGGCG-11  to win accolades at global, national and regional level.
Our alumnae stretch across generations; they are GCGians for life. We are very proud that the potential of our students spans a wide spectrum comprising, civil service; judiciary; police; journalism; corporate, professional, and entrepreneurial sector, academics, sports and performing arts, within the country  as well as abroad. This is a testimony to the quality of teaching alongside the internship opportunities our students receive;  thus  giving them a head start into their  future careers.
We always look forward to continue our academic  journey by celebrating the festivities of teaching and learning  together in a disciplined environment by strengthening  the enduring values of academics and ethics.
Prof (Dr.) Anita Kaushal
Principal